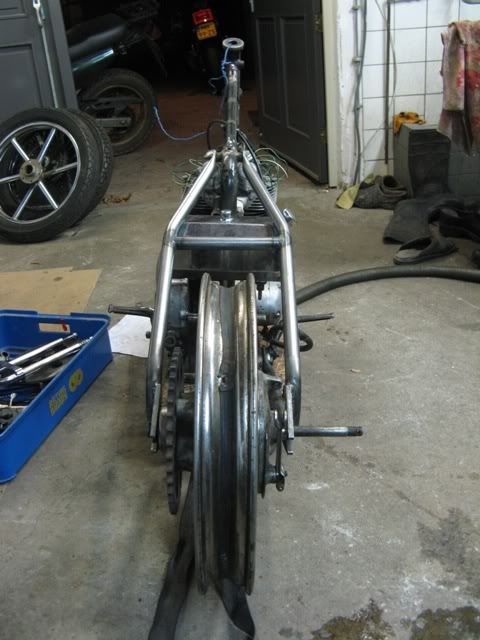 Mr. E. offered to help me out with the rearwheel that was derailing the project and my mentalhealth.... I met Mr.E. in real life just once a few months back, I 'knew' him before that from THE dutch lowbudget chopper forum. So it was very cool of him to offer his help to me, a near complete stranger. So yesterday I drove my lil Skoda filled with old brit iron up to his house, 2,5 hours away. I arrived at his house at 10.00 in the morning and left at 23.15 at night.
During this time Mr. E. worked on my wheel, drawing, calculating and machining.... after 13 hours the wheel was done.... and perfectly!
It fits like glove now! The sprocket is inline and so is the wheel it self.
I'm a very happy guy! Now I can move on with this project!
NICE!
I'm very very thankfull! For all the work, the time, the effort, the skilled craftmanship, the drinks and the food!
Its insane that Mr. E. invested that much time and work in a near complete stranger!
Blessed be Mr. E.!